Related Projects and FP7 Partners
This page provides details and links to other related FP7 Projects EDENext is working alongside.
ECDC is continually developing the European Environment and Epidemiology Network (E3) that links climatic/environmental and infectious disease data in order to strengthen European capacity in forecasting, monitoring and responding to the threats posed by new and emerging diseases.
The E3 network connectc epidemic intelligence and infectious disease surveillance data (currently housed at ECDC) with meteorological variables, entomological data, water quality records, air quality measures, remote sensing information, geology, population density and many other information sources. Through integrating and synthesizing these data sets, disease surveillance systems would be able to incorporate and analyse environmental precursors to disease pandemics, thus preparing public health to meet the challenges of our time.
As part of ECDC's E3 project they committed funds to ensure the continuing maintenance and updating of the FP6 EDEN Project Data site beyond the end of the research project itself. These funds ensured the site continued for over a year untill it was superseded by this current EDENext Data Portal (Funded as part of the FP7 funded EDENext project). This commitment by ECDC ensured that access to a wealth of epidemiological and environmental data for Europe was continued to be made available to the scientific and wider community, where otherwise it would have been taken offline.
---
The EMIDA ERA-NET (coordination of European Research on Emerging and Major Infectious Diseases of production Animals) (http://www.emida-era.net) project "harmonised Approaches in monitoring wildlife Population Health, And Ecology and Abundance" (APHAEA) aims at establishing a European wildlife disease surveillance network that is capable of providing reliable estimates of abundance of wildlife species and of pathogen distribution in key wildlife species.
---
The project aims at promoting an international network for capacity building for the control of emerging vector borne zoonotic diseases, in particular West Nile, Rift Valley fever and Crimean-Congo hemorrhagic fever. Specifically, the network will address integrated control measures including vector control, vaccination programme and therapy strategies, diagnostic tools and surveillance, public awareness and capacity building in endemic regions.
---
Crimean Congo Hemorrhagic Fever project: modern approaches to diagnostics, epidemiology, prevention, therapy and preparedness.  The CCH fever research network will investigate and integrate multidisciplinary research activities proceeding from different specialties (basic virology, antiviral drug and vaccine development, epidemiology, genetic analysis, field diagnostics and medical training) in order to contribute to develop improved diagnostics and surveillance/control measures, effective prevention, and therapy strategies.
---
Comfortably nested in the salivary glands of mosquitoes, the dengue virus moves around and infects everybody unlucky enough to be bitten. But on the wings of mosquitoes, it can't possibly go very far and usually stays within a restricted community… unless it "changes vehicle" and travels further away thanks to the infected humans. Starting in January 2012, the Institut Pasteur will coordinate an ambitious international project called DENFREE that aims at better understanding, and managing, dengue epidemics that spread increasingly rapidly towards regions where the disease was traditionally not present, including Europe. This program involves 14 partner-institutions in 8 countries spread across 3 continents, each of them bringing its own high level expertise on dengue to make this project a collaborative success. It is funded by the European Union for €6 million.
---
DengueTools endeavours to achieve better diagnosis, surveillance, prevention, prediction and/or prevention of the spread of Dengue fever to previously uninfected regions (including Europe) in the context of climate change. The project is funded under the Health theme of the Seventh Framework Programme of the European Community, Grant Agreement Number: 282589 Dengue Tools
---
The mission of EMPERIE is to contribute to effectively countering the potential public health threat caused by new and emerging infectious diseases in Europe, by establishing a powerful network capable of structural and systematic prediction, identification, modelling and surveillance of infectious diseases health threats and pathogens. In pursuit of this mission EMPERIE will establish a network of centres of excellence combining the expertise, techniques and resources necessary for effectively countering (re)-emerging infectious diseases.
---
Through Ebola epidemics in Zaire and Gabon, introduction of West-Nile virus into the Americas, SARS, Chikungunya, and Avian Influenza over the past years, we all became aware that dangerous infections could be imported into Europe in a very short time. Because of such emerging problems and due to the great number of viral pathogens it is necessary to establish a European network of collaboration in this field. The improvement of diagnostics of these "imported" and emerging virus infections is the most important step in detecting the pathogens and dealing with them. Therefore a European collaboration in the area of diagnostics of these virus infections is necessary. The ENIVD is a network founded in 1995 with funding from the European Community and is now (partly) funded by ECDC. It started with 5 members from 3 countries and has grown to a size of to date 57 member institutions from 28 European countries. In annual meetings scientists from laboratories working in the field of diagnostics of "imported" viral diseases build up a network and have worked out objectives to be addressed in this collaboration:
Maintain a network of European laboratories working on diagnostic of "imported", rare and emerging viral infections
Identify relevant viral infections and standard assays and co-ordinate early response activities
Work out recommendations for standardisation, bio-safety requirements, and quality control
Optimise limited resources by exchanging reagents, methodologies, and expertise
Encourage regular contact (meetings, trainings) within the network, with other networks and with organisations such as ECDC, WHO, and CDC
In 2008 the ENIVD started a strong alliance with the ECDC on the program: "Establishment of a Collaborative Network of European Laboratories for Outbreak Assistance and Support" and developed the additional project "The ENIVD Collaborative Laboratory Response Network (ENIVD-CLRN)". This task is funded by ECDC, the main network is kept going by the members own contributions.
Further details can be found at www.enivd.org
---
EuroWestNile, a collaborative research project funded by the European Union (HEALTH.2010.2.3.3-3/2261391) dedicated to improving the knowledge of the biology, ecology and epidemiology of the West Nile virus in Europe, and to provide innovative tools for its prevention and control.
The common efforts of the EuroWestNile consortium, its Advisory Committee and the expected end-users of the project will help to improve our knowledge on may aspects of WNV ecology and epidemiology in Europe to prevent and control disease outbreak and protect the health of the European citizens. This project will also increase competiveness and boost the capacity of the European health-related industries, while addressing global health issues as potentially emerging epidemics.
---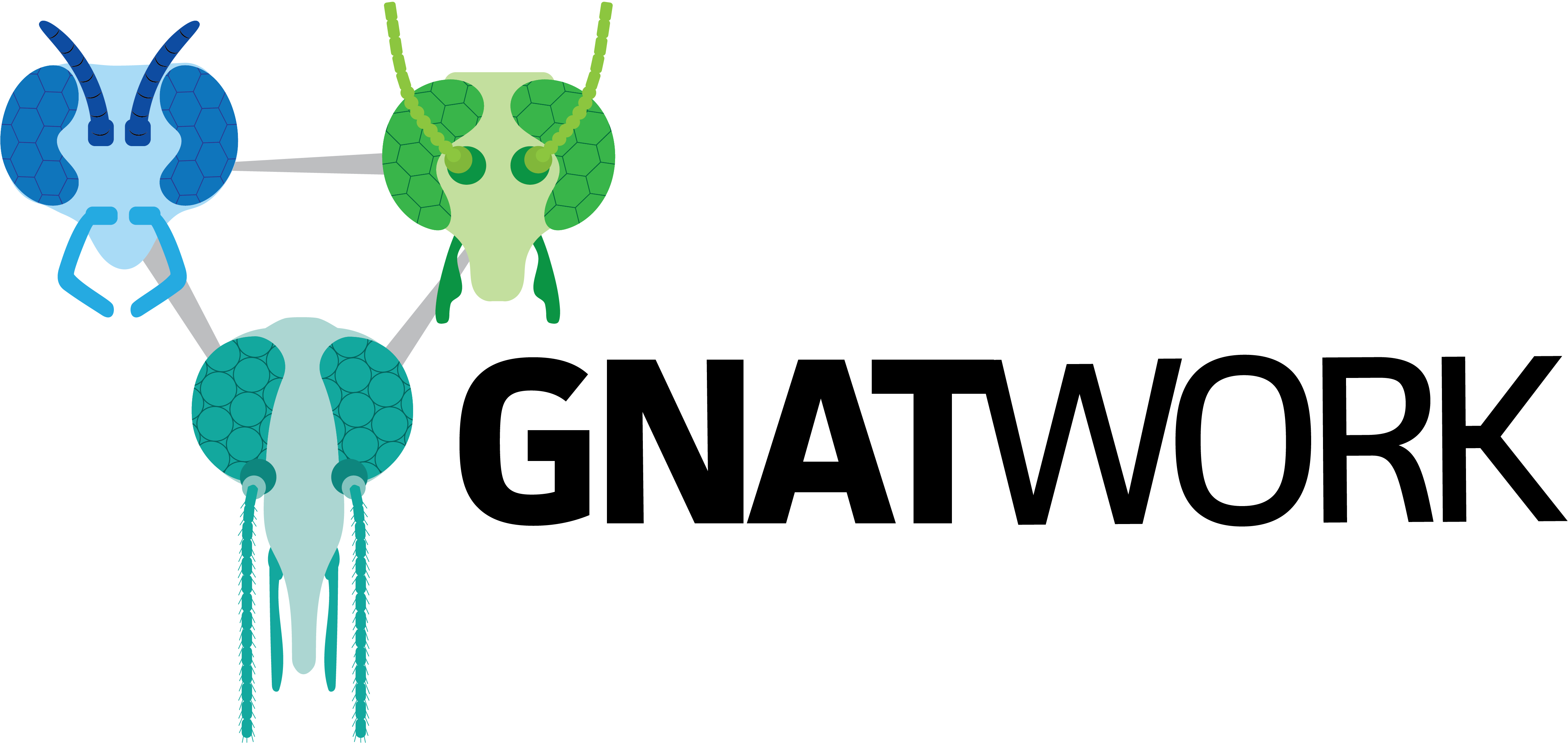 The Gnatwork is a Global Challenges Research Fund (GCRF) funded network, aiming to create and maintain a community of researchers based on shared technical difficulties across biting midges, sandflies and blackflies. Through pump-prime funding of small-scale studies and hosting of annual training workshops, we aim to create a more resilient research base for these three neglected vector groups.
To find out more about the Gnatwork and our opportunities, click the links below.
---
Health, environmental change and adaptive capacity mapping, examining & anticipating future risks of water-related vector-borne diseases in eastern Africa
The HEALTHY FUTURES project is motivated by concern for the health impacts of environmental changes. It aims to respond to this concern through construction of a disease risk mapping system for three water-related, high-impact VBDs (malaria, Rift Valley fever and schistosomiasis) in eastern Africa, taking into account environmental/climatic trends and changes in socio-economic conditions to predict future risk.
Water-related VBDs are transboundary in their distribution and effects and so an integrated (i.e. regional and global), multi-national response is therefore required. HEALTHY FUTURES is comprised of an international & inter-disciplinary consortium of health, environment, socio-economic, disease modelling and climate experts in addition to governmental health departments. The consortium is made up of 15 partners located on the continents of Africa and Europe (eight of the institutions participating in HEALTHY FUTURES are located in Africa). By concentrating on a single region, HEALTHY FUTURES is able to involve partners with pan-regional experience and many stake-holder governmental health bodies to ensure maximum data access in a comprehensive research network.
To achieve its aims, HEALTHY FUTURES will deploy a bottom-up, end user/stakeholder-focused approach combining field-, laboratory- and library-based research.
Objectives:
The project focuses on three water-related, high-impact VBDs in eastern Africa (comprising the countries of Burundi, Kenya, Rwanda, Uganda and United Republic of Tanzania). It will take into account environmental/climatic trends and changes in socio-economic conditions to predict future risk. HEALTHY FUTURES aims to;
1. Build partnerships between African and European researchers and organisations in the fields of environmental change, and animal and public health;
2. Gain a comprehensive overview and knowledge of the historical, socio-economic and environmental factors of the 3 target VBD's;
3. Devise and construct a future disease and risk vulnerability mapping system, and accompanying Decision Support tools to anticipate and respond to early warnings of future outbreaks, and;
4. Connect and transfer knowledge to key stakeholders, and the wider scientific and policy-related communities.
The Deliverables/Expected Outcomes:
An evaluation of and development of statistical & dynamical disease models.

High resolution regional climate projections for the eastern African study region and future disease risk and vulnerability maps.

An online information board, workshops and international conferences.

Peer-reviewed publications in high impact journals.

Two-way dialogue between researchers and key stakeholders within the consortium.
Further Details found at www.healthyfutures.eu
---
This project will integrate the expertise of EU laboratories with a long and strong track record of research on alphaviruses with EU laboratories that started work on CHIKV following the outbreak in La Reunion and laboratories from SE Asia working on this virus. The project will generate new molecular and cellular tools for research and applied studies, and develop a vaccine which at the end of this project is ready to enter clinical trials.
---
The overall concept of this research project is to assemble a consortium of international experts working together to develop new and innovative tools to be applied to the control of dengue in a global context. The core of the application focuses on parallel strategies aimed at:
improving diagnosis and clinical management of dengue through two linked work packages designed a) to identify readily available clinical and laboratory parameters and/or viral and immunological markers, that differentiate between dengue and other common febrile illness within 3 days of fever onset, and b) to identify any of the available markers that are predictive of the likelihood of evolving to a more severe disease course
assessing the risk of dengue spread though linked work packages focused on a) mapping and modelling techniques to  define the current extent of dengue disease globally and to evaluate possible scenarios of spread or risk to previously uninfected regions in the future, and b) developing effective and affordable early warning and outbreak response systems.
---
The Malaria Atlas Project brings together researchers based around the world with expertise in a wide range of disciplines from public health to mathematics, geography and epidemiology. We work together to generate new and innovative methods of mapping malaria risk. Ultimately our goal is to produce a comprehensive range of maps and estimates that will support effective planning of malaria control at national and international scales.
---
RNA virus infections kill millions of humans annually, largely due to the lack of suitable vaccines and drugs to control them. The SILVER (Small-molecule Inhibitor Leads Versus Emerging and neglected RNA viruses) project is a global consortium arising from the coordination of Europe's and Asia's leading molecular virologists, structural biologists, medicinal chemists and bioinformaticians. The ultimate aim of SILVER is to generate a state-of-the-art drug design programme to face new and emerging diseases caused by RNA viruses.
---
The objective of VBORNET is to establish a European Network of entomological and public health specialists in order to assist ECDC in its preparedness activities on vector borne diseases (VBD). This will be achieved in three steps:
Establishment of the VBORNET consortium who will develop the VBORNET network and the VBORNET inventory.
Establishment of a VBORNET network of contributing members who are representative of the wide range of vector-borne disease related research and public health (PH) activities currently ongoing in Europe. One of its main tasks in year one will be to set the basis for Pan-European administrative unit distribution maps of the major arthropod vectors of diseases. Subscription is on a voluntary basis;
Establishment of a VBORNET inventory which aims at making an exhaustive catalogue of VBD and related public health (PH) activities (and expertise) in Europe.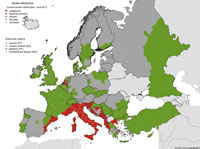 Given the diversity of topics related to VBD in Europe the VBORNET network cannot be seen as a static group, but will be in permanent evolution, with VBORNET network members activated from the VBORNET inventory at any stage according to priorities and technical needs.
VBORNET now has its own website at www.vbornet.eu - please update your bookmarks.
---
VECTORIE is an acronym for Vector-borne Risks for Europe: Risk assessment and control of West Nile and Chikungunya virus and is a small/medium-scale focused research project funded by the European Commission under the Seventh Framework Programme (FP7)
The ultimate impact of projects under this program is to enhance Europe's preparedness for vector-borne emerging diseases through:
The creation of an integrated research capacity on vector-borne emerging diseases in Europe, uniting researchers from different fields;
The contribution towards improved ways to monitor spread, diagnose, prevent, control and treat vector-borne diseases in Europe.
---
VECTORNET - Website coming soon...
A European network for sharing data on the geographic distribution of arthropod vectors, transmitting human and animal disease agents (OC/EFSA/AHAW/2013/02). Started in May 2014 for 4 years, collaboration between ECDC and EFSA and involving a continuation of the work started by VBORNet in assembling and validating known distributions of and surveillance activities for a wide range of disease vectors in Europe and its neighbours. Vectornet will also use model based gap analyses to target extensive field surveys to fill the gaps in current knowledge
---
For many reasons, the health of wildlife is of major concern throughout the world. Apart from important influences on the health of many wildlife species, infectious diseases of wildlife have significant impacts on public health and health of livestock. Effective disease surveillance is essential in order to inform control strategies and this depends critically on the development and application of methods of disease diagnosis which are both accurate and rapid. The WildTech project has been established specifically to address these problems and to set up a technology centre that may be exploited in Europe and elsewhere as a basis for high throughput disease diagnosis in wildlife.
---
The world is facing a variety of viral infections of high pathogenic potential. These are either novel or formerly only endemic in specific areas of the world. It is intrinsic to such emerging diseases that actions to prevent and fight them must be taken while the number of infections is still relatively low and geographically restricted. Therefore, research efforts are required well before large outbreaks occur. In addition, effective surveillance networks for a given emerging disease must be established in time. Only with tools for treatment and control (such as vaccines) it will be possible to avoid major uncontrolled outbreaks. This project aims at the development of these tools for the control and prevention of one of the most threatening vector-borne emerging diseases, West Nile Fever, caused by West Nile Virus (WNV), which has recently spread through North America and is becoming a serious threat in Europe. Although the viral strains are similar in America and Europe, different conditions for a WNV epidemic have to be taken into account, like insect vectors, reservoir hosts (birds) and their endemic virus populations plus specialities of European climate and geography. To make a significant impact in the enhancement of Europe´s preparedness to WNV, the project consortium has defined three major scientific and technical objectives.
Development of a specific diagnostic test

Vaccine development

Epidemiology of WNV in Europe