Here we list other vector focused research projects that are now complete.  This page is an archive that records the history of research projects and funding on vector-borne disease.
Arbo-Zoonet: International Network for Capacity Building for the Control of Emerging Viral Vector Borne Zoonotic Diseases
The project aims at promoting an international network for capacity building for the control of emerging vector borne zoonotic diseases, in particular West Nile, Rift Valley fever and Crimean-Congo hemorrhagic fever. Specifically, the network will address integrated control measures including vector control, vaccination programme and therapy strategies, diagnostic tools and surveillance, public awareness and capacity building in endemic regions.
---
Crimean Congo Hemorrhagic Fever project
Crimean Congo Hemorrhagic Fever project: modern approaches to diagnostics, epidemiology, prevention, therapy and preparedness.  The CCH fever research network will investigate and integrate multidisciplinary research activities proceeding from different specialties (basic virology, antiviral drug and vaccine development, epidemiology, genetic analysis, field diagnostics and medical training) in order to contribute to develop improved diagnostics and surveillance/control measures, effective prevention, and therapy strategies.
---
DENFREE: flying towards the efficient control of dengue
Comfortably nested in the salivary glands of mosquitoes, the dengue virus moves around and infects everybody unlucky enough to be bitten. But on the wings of mosquitoes, it can't possibly go very far and usually stays within a restricted community… unless it "changes vehicle" and travels further away thanks to the infected humans. Starting in January 2012, the Institut Pasteur will coordinate an ambitious international project called DENFREE that aims at better understanding, and managing, dengue epidemics that spread increasingly rapidly towards regions where the disease was traditionally not present, including Europe. This program involves 14 partner-institutions in 8 countries spread across 3 continents, each of them bringing its own high level expertise on dengue to make this project a collaborative success. It is funded by the European Union for €6 million.
---
DengueTools
DengueTools endeavours to achieve better diagnosis, surveillance, prevention, prediction and/or prevention of the spread of Dengue fever to previously uninfected regions (including Europe) in the context of climate change. The project is funded under the Health theme of the Seventh Framework Programme of the European Community, Grant Agreement Number: 282589 Dengue Tools
---
EuroWestNile: improving the knowledge of the biology, ecology & epidemiology of the West Nile virus in Europe
EuroWestNile, a collaborative research project funded by the European Union (HEALTH.2010.2.3.3-3/2261391) dedicated to improving the knowledge of the biology, ecology and epidemiology of the West Nile virus in Europe, and to provide innovative tools for its prevention and control.
The common efforts of the EuroWestNile consortium, its Advisory Committee and the expected end-users of the project will help to improve our knowledge on may aspects of WNV ecology and epidemiology in Europe to prevent and control disease outbreak and protect the health of the European citizens. This project will also increase competiveness and boost the capacity of the European health-related industries, while addressing global health issues as potentially emerging epidemics.
---
ICRES: Integrated Chikungunya Research
This project will integrate the expertise of EU laboratories with a long and strong track record of research on alphaviruses with EU laboratories that started work on CHIKV following the outbreak in La Reunion and laboratories from SE Asia working on this virus. The project will generate new molecular and cellular tools for research and applied studies, and develop a vaccine which at the end of this project is ready to enter clinical trials.
---
The objective of VBORNET is to establish a European Network of entomological and public health specialists in order to assist ECDC in its preparedness activities on vector borne diseases (VBD). This will be achieved in three steps:
Establishment of the VBORNET consortium who will develop the VBORNET network and the VBORNET inventory. Establishment of a VBORNET network of contributing members who are representative of the wide range of vector-borne disease related research and public health (PH) activities currently ongoing in Europe. One of its main tasks in year one will be to set the basis for Pan-European administrative unit distribution maps of the major arthropod vectors of diseases. Subscription is on a voluntary basis; Establishment of a VBORNET inventory which aims at making an exhaustive catalogue of VBD and related public health (PH) activities (and expertise) in Europe.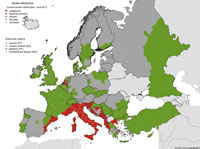 Given the diversity of topics related to VBD in Europe the VBORNET network cannot be seen as a static group, but will be in permanent evolution, with VBORNET network members activated from the VBORNET inventory at any stage according to priorities and technical needs.
VBORNET now has its own website at www.vbornet.eu - please update your bookmarks.
---
WildTech: Novel technologies for surveillance of emerging & re-emerging infections of wildlife
For many reasons, the health of wildlife is of major concern throughout the world. Apart from important influences on the health of many wildlife species, infectious diseases of wildlife have significant impacts on public health and health of livestock. Effective disease surveillance is essential in order to inform control strategies and this depends critically on the development and application of methods of disease diagnosis which are both accurate and rapid. The WildTech project has been established specifically to address these problems and to set up a technology centre that may be exploited in Europe and elsewhere as a basis for high throughput disease diagnosis in wildlife.